We connect Austria's care and assistance
Linking and connecting, Linked Care is intended as a comprehensive digital system to ensure a stringent flow of information and a continuous supply of information in mobile care, assistance and therapy.
 
The demographic development causes a strongly growing need for care, assistance and therapy with a simultaneously decreasing supply of health professionals. This results in a high workload and, in addition, often different settings such as inpatient, day-care, mobile or private care, nursing and therapy intertwine. The exchange of information is often incomplete or requires a lot of additional time. The reason for this is the lack of interfaces and standards in IT systems and communication. The great differences in the type and scope of documentation cause additional work, because data must be recorded x times.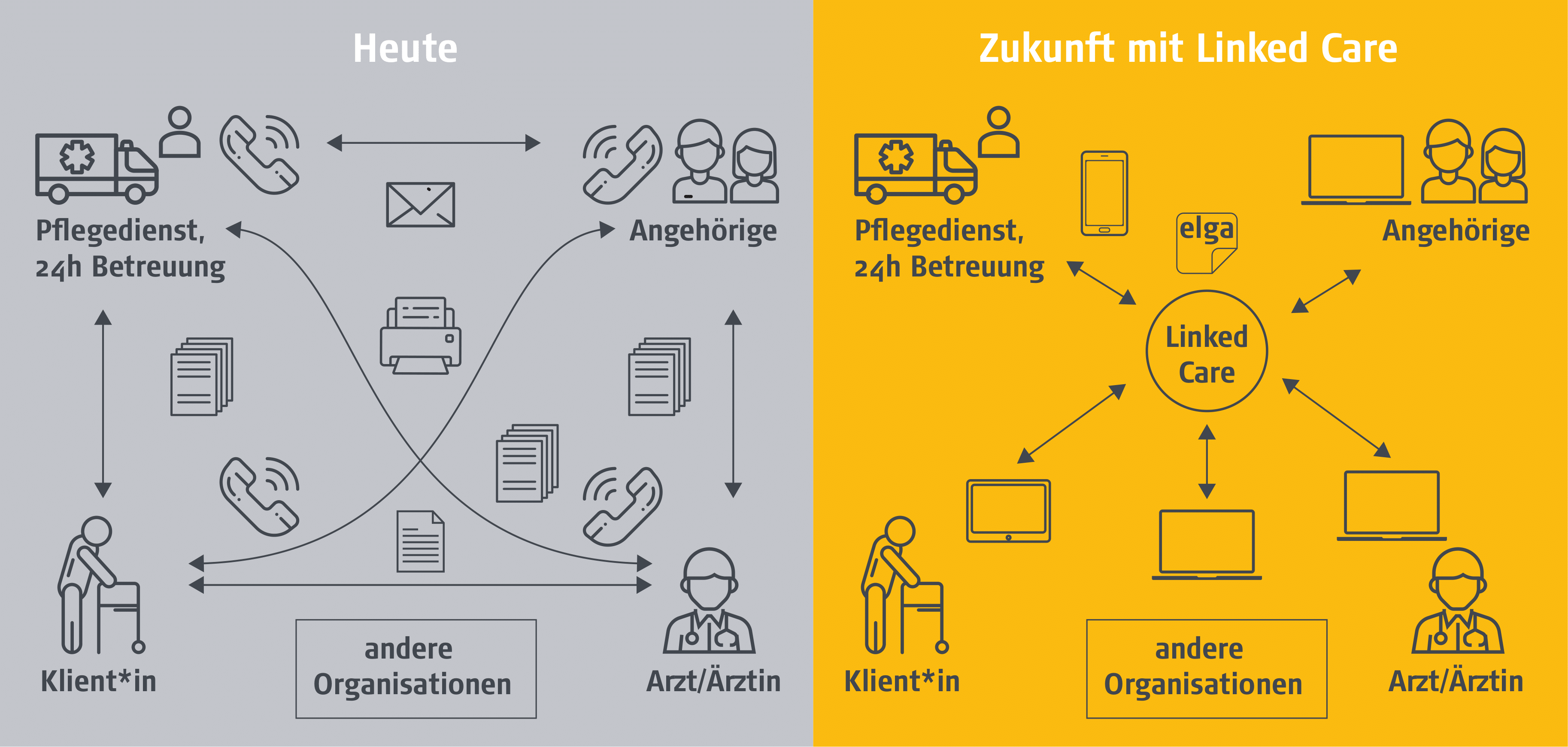 Linked Care - Continuous information supply in mobile care and assistance
Linked Care simplifies the flow of information and networks all parties involved with the aim of enabling people in the health care professions to work together with the patients themselves, their relatives, as well as doctors, therapists and pharmacies online in an efficient, secure and low-threshold manner directly with optimal IT support. Operation should be simple and save time due to a high degree of automation; for the clients and their relatives, this results in additional security for mobile care and assistance.
As the lead project in this field, Linked Care unites stakeholders and end users as partners in an innovative way to contribute their knowledge and concerns. By taking into account an ethically correct and user-oriented development, demonstration and evaluation of the software, a new gold standard is being developed. This will make Austria a pioneer in digital information and communication in mobile care and support throughout Europe.
Linked Care is a digital documentation system in mobile care and support, a portal into which all relevant information about care and support processes is entered and is available to all persons involved across settings. A simple user interface enables quick access to documentation as well as fast, partly automated completion.
Advantages for affected persons/clients/patients:


Access to their own documentation and simplified communication
Increased individual autonomy


Advantages for caregivers

As a care summary, Linked Care gives all relevant data at a glance
innovative work processes through simplified interdisciplinary and cross-setting cooperation
standardised and simple communication to overcome linguistic, setting-specific and demographic barriers



Advantages for patients and their families


better access to information, active involvement in the care process if needed, and more targeted planning of informal care



Advantages for health care providers

Application of ELGA in nursing and care practice
Integration of telemedicine/eHealth
One portal/tool for all stakeholders (carers, relatives, clients, physicians, pharmacists and therapists)
Flexible changeover to digital services immediately possible if the situation requires it (Covid)